Candyce Jack joined the clinic in September 2015. Her responsibilities include conducting pre-exams, assisting the DVM, collecting samples, preparing medications, and client education. Candyce believes the most important part of her job is patient well being done through quality patient care, client communication, and education. "Our efforts in the hospital are only successful when we are able to work together with clients to provide complete patient care."
Candyce brings 20 years of experience in veterinary medicine to her position. She has a Zoology degree from the University of Washington and a Veterinary Technology degree from Pierce Community College. She has co-authored three editions of the textbook, Daily Reference Guide for Veterinary Technicians, published by Blackwell Wiley and is a licensed veterinary technician in Washington.
Candyce is married to her husband, Jon and has three children. She also shares her home with Nutmeg, an Eastern box turtle; Piggy and Gus, guinea pigs; Rory and Oliver Glen, cats; Tegan, border collie; and 8 ducks and chickens. Candyce's interests outside of veterinary medicine include travel, reading, and spending time with her family.
Customer Service Representatives
Team Lead & Client Service Representative
As someone who enjoys animals and social work, Emily has found a passion in working with our incredible clients and their amazing pets here at CVVH and PTVC. Emily joined our team in November of 2017, working full time to help ensure the highest standards of excellence we strive to provide. Some of Emily's responsibilities include assisting our practice manager, answering phones, scheduling appointments, checking clients in and out of our facility, client records, medication requests, client education, serving as our initial point of contact, and much more.
"Port Townsend has always felt like home to me. I've been looking for a career as well as an environment that truly feels like home. I have definitely found my calling here – it's somewhere I know I can be successful and have fun at the same time," Emily says. "The staff is very family oriented in the sense that we feel like a big family and definitely care about the love and bond that you share with your pet. I really see the therapeutic qualities that pets can have on people."
At home, Emily and her husband enjoy spending time outdoors, chasing sunsets, and spending time with friends and family. She considers herself a very musical person. Emily owns a Beagle mix named Camo, a Long Haired Calico cat named Luana, and a short-haired gray cat named Seymour Fuzzy Bottoms.
Team Lead & Client Service Representative
Hannah joined CVVH and PTVC in August of 2015. She is brand new to the veterinary field and is very much enjoying her introduction to veterinary medicine as well as getting to know the clients and their pets. Hannah grew up in Jefferson County and graduated from Chimacum High School. She grew up bringing her pets to our hospital and feels honored to be a part of the team. Outside of work, Hannah enjoys taking her dog for walks, short hikes, going to the beach and spending time with her friends and family. Hannah is the owner of a fun-loving Yorkshire Terrier named Rue.
Client Service Representative
Nicole joined Chimacum Valley Veterinary Hospital and Pet Townsend Veterinary Clinic in December 2011, bringing with her five years of prior experience as a veterinary technician. She particularly enjoys interacting with the hospital's clients, with a focus on providing them with information they need to be the best possible caregivers for their pets.
"I love working here because my co-workers are fantastic—and as dedicated to our patients as I am," she expressed. Also, "The Pacific Northwest is a beautiful area to call home."
Outside work, Nicole spends her time reading, camping, hiking, hanging out with friends, and playing games. She has two cats: Loki, a domestic long hair, and Mr. McDiddles, a domestic medium hair.
Client Service Representative
Kathy joined our team in July 2020, having previously worked Oak Bay Animal Hospital.
Clients love Kathy for her compassionate personality. Her duties here include checking patients in and out, answering the phones, and scheduling appointments. She is a customer service star who makes both humans and animals feel at home.
When she's not working, she enjoys rockhounding and tumbling, making jewelry, and spending time with her family.
Customer Service Representative & Veterinary Assistant
Emri joined CVVH and PTVC in November of 2022. She began working as a Client Service Representative and has loved making connections and building relationships with our clients. Emri is excited to be building those relationships with our patients as well, as she begins training as a Doctor's Assistant. Outside of work, Emri spends most of her free time with her family, including Chubs, a domestic medium hair cat (who lives up to her name), and Dune, a sweet Mini Aussie/English Bulldog puppy. Emri enjoys line dancing on a performance team, roller skating, camping, training with Dune, and baking. 
Client Service Representative
Kayla joined the Chimacum Valley and Pet Townsend team in May of 2021. She works as a client service representative at the front desk and enjoys getting to meet many pets as they check in and out for appointments. Kayla has lived in Jefferson County her whole life and graduated from Port Townsend High School in 2018. She has wanted to work in the veterinary field since she was little, and has always loved helping people and animals. Now she is getting to do both!
Outside of work Kayla loves spending time with her family, walking, reading, going for motorcycle rides with her boyfriend, Keegan, or listening to music. She has four pets who make their home life very entertaining. They have two young cats, Sid and Sash who are identical brothers, very similar in color, the only way to tell them apart is their noses. They also have two dogs, Remy, a 5-year-old husky mix, and Luna, a two-year-old Red Heeler mix.
Licensed Veterinary Technicians
Licensed Veterinary Technician
Aleta joined the Chimacum Valley and Pet Townsend team in January 2013. Her responsibilities include prepping and assisting during surgery, nursing patients, dental cleanings, and starting appointments. She especially enjoys comforting patients and "making a stressful visit easier and calmer."
Aleta has a bachelor's degree in International Affairs and is a licensed veterinary technician in Washington. She has 17 years of experience in the veterinary field, 12 as a licensed technician. She enjoys learning and is always trying to improve her skills and her breadth of knowledge.
Outside of work, Aleta's primary social activity is walking with her border collie, Penny. As the picture shows, she also enjoys riding to work on her bike with Penny. When not involved in animal-related activities, she enjoys architectural ceramics, gardening and Zumba dancing. She currently runs a feline geriatric ward at her home, with 4 senior cats (Zowie, Neo, Zappa and Frankie) and 2 merely middle-aged brother cats, Roger and Stanley.
Aleta still loves being a veterinary technician and can't decide whether she loves the animals, or the humans connected to them, the most.
Licensed Veterinary Technician
Kaylin joined our team in September 2019 with an Associate's degree in animal science and a vet tech license from Washington state. Active in the veterinary field for the past 8 years, Kaylin has worked as a veterinary assistant in a mixed animal mobile practice, where she treated cats and dogs, along with livestock animals such as goats, sheep, pigs, cows, horses, and chickens. Just prior to coming to our clinic, she spent time at the Animal Emergency & Trauma Center.
Her duties as vet tech include triaging patients and reporting history and client concerns to the veterinarian, supportive care of hospitalized patients, obtaining vital signs and performing in house diagnostics, administer injections, radiography, phlebotomy, surgical preparation, and anesthesia monitoring and recovery.
Her large furry family includes three dogs, Diesel (a five-year-old Bullshepsky), Izzy (a five-year-old blue heeler), and Ggee (a 10-year-old dachshund); and one horse, a 17-year-old paint. In her free time, Kaylin likes to ride her horse, hike with her dogs, and take her 1976 CJ7 Jeep up to the mountains during the winter to play in the snow with friends and family. She also competes in several different equestrian events, including dressage/jumping, cow sorting, and barrel racing and is the chairman leader in her local 4H community.
Licensed Veterinary Technician
We were proud to welcome part-time Licensed Veterinary Technician, Lisa, in February of 2019. She received her license from Pierce College in 1999 and has since been actively working to better the health and lives of the patients she treats. Here Lisa helps with anesthesia induction, patient maintenance, monitoring, and recovery. She also administers dental cleanings, x-ray examinations, diagnostic procedures, and gives assistance during surgery. Lisa takes her role as an LVT one step further by providing client education, as she is always willing to converse without clients about their pets and the care they receive.
Lisa brings with her a passion for veterinary dentistry and hundreds of extra hours in classes and wet labs. She also possesses 20+ years of experience in veterinary care. She pairs her experience with a warm and gentle personality that brightens any room. Lisa is happy to speak with our clients and develop personal connections with each interaction.
"I like working at Chimacum Valley Veterinary Hospital because of the incredible staff and doctors. They are passionate about what we get to do here at the hospital and are compassionate toward every patient and client that comes in. It is obvious the well-being of the patients is a priority."
Away from the hospital, Lisa likes to run her horse farm, a 10-horse boarding stable. She continually looks to improve on her understandings and knowledge of equine behavior and riding. Lisa has one senior horse named Harley, who is an Iberian Warmblood mare. She also owns an Oldenburg gelding named Hal, who keeps Lisa pushing herself and her boundaries to learn more. Lisa also owns 2 cats named Ping and Pong, who have ruled her house for years. With any time left, she also finds happiness in gardening and cooking.
Licensed Veterinary Technician
Peggy has been a valued member of our team since September 2013. She has more than 30 years' experience in the veterinary field, having served as a kennel technician, receptionist, and licensed vet tech for two different hospitals prior to joining our practice. While she raised her three children, she worked toward her Washington State Veterinary Technician License, which she earned in 2003.
A team-oriented person, Peggy enjoys doing the best she can for every animal that comes through our doors and is glad that everyone on our staff shares that same mission.
Peggy's furry family includes two rescue dogs, siblings Sadie and Blake, and a 12-year-old cat named Maggie.
Ashley, one of our Veterinary Assistants, works hard to assist our veterinarians and her fellow team members. She loves her profession and being able to help animals in need or medical attention or care. Ashley has been working in the veterinary industry since 2015 and has experience as a Dog Trainer, as a Kennel Manager, and as a Kennel Technician.
"I like working at Chimacum Valley Veterinary Hospital because all of the staff and doctors truly care about the patients and their owners' needs," Ashley says. "We are about taking the best care and putting the animal first."
In her spare time, Ashley can be found gardening or going for walks and hikes with her dogs. She owns an Italian Mastiff named Captain, and an Irish Terrier named Mayhem.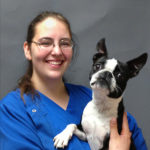 Inventory Manager & Veterinary Assistant
Tiffany is a student at PennFoster College, working toward her Veterinary Technician Associate Degree. She has been with the clinic since May of 2013 and has five years of work in animal-related fields. She is a certified dog trainer (Animal Behavior College) and also fosters and rehabilitates dogs.
"I connect with our patients," Tiffany explains. "I can communicate with them, read their body language, and respond well—making procedures go much smoother and their overall experiences positive."
Tiffany is a member of the American Kennel Club and has competed in Agility, Rally, Obedience, and Freestyle. She has four dogs, Addi  (Border collie), Angel (Pomeranian), Shyla (Pomeranian), and Zephyr (Lhasa apso); four cats, Kit, Kat, Meow, and Lily; two rats, Pip and Squeak, a ten-year-old goldfish, and a Quarter Horse named Beauty. Her free time is spent training dogs and walking them on the beach—as well as cleaning the giant pet house that she calls home. She also loves spending time with her horse.
Heather is one of our hard-working Veterinary Assistants here at Pet Townsend Veterinary Clinic. She joined our terrific team in October of 2014 and has been providing phenomenal veterinary and client care ever since. Heather is responsible for starting appointments, restraining patients when necessary, running in-house labwork like fecal analysis, ear& skin cytology, and more! She also makes great effort in client education and feels an informed client is the best client.
What Heather enjoys doing the most as a Veterinary Assistant is drawing blood and making the patients feel as calm as possible. One unique attribute Heather shares with PTVC is singing to her co-workers and our patients if they are looking sad or stressed. She has been deemed a Certified Veterinary Assistant by the Pima Medical Institute and loves working in veterinary care, especially for CVVH & PTVC.
"Ever since Dr. Tony came to my class in 8th grade I knew I wanted to work at CVVH & PTVC," Heather proclaims. "Growing up, this was our family vet and I felt this is where I was meant to be. My cousin Krystal is another reason. She loves working for CVVH & PTVC and it really make me think once again this where I want to be."
Heather loves spending time with her friends and going on walks. She also loves to garden and potting plans, watching movies, and camping with her family. Heather owns a Husky/Corgi mix named Mocha, whom she adores dearly.
Veronica joined us in October 2018 and is a full-time veterinary assistant. She has worked in animal-related fields—as a pet sitter, a rescue volunteer, and veterinary assistant—for 15 years. She is currently taking a veterinary technology course.
As a veterinary assistant, Veronica helps the technicians and veterinarians by recording weights and vital signs, holding patients during exams and procedures, and is a personal Pez dispenser of treats. She appreciates our team atmosphere, and her favorite task is doing blood draws. She also enjoys engaging with pets and their owners.
A true animal lover, Veronica has three dogs—Ramone, 16, a Brussels Griffon mix; Ace, 2, a Miniature Pinscher mix; and Astrid, 10 months, a Chihuahua mix. She also has two guinea pigs
Veronica enjoys walking on the beach, bike riding, spending time with her family, and staying up really late to sneak in a good book, or on a rare occasion, a movie.
Karynna works hard as one of our outstanding Veterinary Assistants. She joined our team full-time in October of 2018 and since has been working hard to make a difference. Karynna has been working in the animal-related field since 2014, holding prior positions as a Shelter Attendant and Barn Helper for other animal care providers. She obtained her associate degree while working full time to achieve the next level of education.
Karynna is responsible for assisting our doctors with vitals and patient history, initial triage of sick or emergent pets, providing a comfort and support system for pets and pet parents, and much more! She also is happy to serve the role of initial head scratcher and cookie dispenser, and she loves to brighten the days of our patients and clients. The part of her job that Karynna likes best is helping to educate pet parents about different options for their pets' health and making connections with patients and clients while doing so.
"Chimacum Vet has an amazing staff and the owners seem to truly care about their staff and patients," Karynna says. "There is a real love for pets and great medicine, and the owner create an environment for staff to grow and learn that sets the hospital up for success. Employees feel valued, which then translates to our patients and their families receiving the best quality of care."
Karynna loves to bake, participate in garage sales, but most importantly she loves devoting her time volunteering with youth groups around Jefferson County. She primarily works with Seascouts and the Girls Troop and loves being a source of positive influence. Karynna also likes riding her horse, bringing zen and balance to her life. She is a member of the AHA (Arabian horse association) and competes locally in Barrel racing events and shows at the fairgrounds.
The Pacific Northwest has been my home since I was 9 years old. I'm proud to be part of a military family and after living in several different places around the world, I am back home living in Port Townsend.  My love for all animals began as a child growing up with a Chihuahua named Tinker. From there I raised 2 sons and began volunteering in a no kill shelter where I rescued my best friend Merlin (also a Chihuahua). We have been together for 11 years, and our favorite outdoor activity is hiking. Combine that with the love of animals, and you have a great place to work. Knowing I wanted to work in a Veterinary Clinic, I completed a course for Veterinary Assistant. I have worked at Chimacum Valley Veterinary Hospital for 5 years. I am currently working as a Technician Assistant, and I really enjoy this position. My work family is very important to me, there is so much talent and knowledge at our clinic.
Christine is one of our outstanding Veterinary Assistants here at CVVH that has been helping to provide the highest standards of veterinary care since joining our team in June of 2018. She primarily provides assistance to our veterinarians and other staff, and her favorite part of coming to CVVH is getting to see and positively influence the animal-human bond between our wonderful clients and their beloved pets.
Christine has been working in veterinary care for over 9 years, having prior experience as a veterinary assistant for Oak Bay Animal Hospital. She is known for her ability to interact with our patients and their owners in ways that let demonstrate her genuine care and consideration of them and their needs. Christine likes working for CVVH because, "it provides an opportunity to improve my patient care skills as well as stay current with the latest patient care techniques."
At home, Christine likes to spend time with her family and pets. She owns a Border Collie named Sophie Girl and an Australian Shepherd/Springer Spaniel mix named Meerah Belle.
Dani joined the Chimacum Valley and Pet Townsend team in June of 2021 and is a full-time veterinary assistant. She moved from Southern California with a bachelor's degree in Ecology and work history in animal-related fields including shelter volunteering and fostering, animal boarding and grooming, and pet-sitting. It was a childhood dream of hers to work in veterinary medicine, and she is happy to have joined a great team in a field she loves.
As a veterinary assistant, Dani can be seen starting appointments, assisting her veterinarians and technicians in patient handling, and giving pets a second breakfast in the form of treat-bribes. Trained for both the veterinary assistant position and technician assistant role, Dani also assists in preparing patients for surgery and monitoring during recovery. The things that give Dani the best job satisfaction are keeping patients' experiences as fear-free as possible and excellently trimming sedated patients' nails.
Dani moved to beautiful Washington state with her dog Jasper (a 5-year-old Australian Shepherd with social anxiety), and her two cats, Birdie (a semi-feral foster-failure) and Merlin (wanted in CA for multiple counts of property damage). In her off time, she enjoys cooking elaborate meals, exercising Jasper on the beach or in the woods, or providing a lap for a cat while reading too many books.
A Port Townsend native, Kayla has been a veterinary assistant since 2019.  She has always enjoyed caring for living things from plants to animals, with a dream of becoming a veterinarian herself one day! She is the proud owner of 2 cats Artichoke and Hakuna, Penelope the Border Collie, and Sophie the Border Collie/ Mini Australian Shepard. Kayla is proud to be a Fear Free Certified Professional and pledges to hold each pet's emotional as well as physical well-being in mind at all time
Sarah joined the CVVH and PTVC group in July of 2022. She moved to Port Townsend from Missouri after graduating college with a bachelor's degree in Animal Science. While in school, Sarah worked as a veterinary assistant for three years in a small animal clinic and joined the college equestrian team in her free time. She grew up around animals and has had many furry companions but currently has an orange tabby named Leo who keeps Sarah on her toes. Sarah is currently in school to become a Licensed Veterinary Technician and plans to continue taking care of animals big and small. In her free time Sarah enjoys reading, enjoying nature, hanging out with her brother and his partner, and making new friends.